Jolly Jockeys Birthday Parties!
An hour and 15 minutes of fun and games riding the ponies, followed by a traditional birthday tea. One of the most unique, entertaining and educational birthday parties around.                     
We create a safe and enjoyable environment for all children regardless of riding experience.
Shetland Package - Ideal for Tots, younger children and those on a budget
30 minutes of grooming & 30 minutes of riding.
Ride around the farm in sunshine or indoors in bad weather
Bring your own food, party bags & cake
Includes a rosette for each child
Parents will need to lead
Suitable for ages 2 years and over, 8-10 children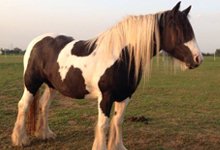 Pony Package - Our complete party package for children aged 4-10 years
More than 1 hour of Party Games & Music
Followed by a traditional Birthday Tea (please advise us of any allergies)
Leaders provided
Please bring your own birthday cake
If you want to give prizes for games or party bags please bring these along
Minimum of 10 children per party
Warmblood Package
A group ride, competition or gymkhana for older children and experienced riders can also be arranged.
We have a large indoor riding facility, so rain won't spoil the day! Parents are encouraged to take an active role in all the fun and games, maximising the experience for everyone. We kindly ask that you observe the following:
Children need to wear shoes with a small heel, i.e. wellies, no trainers or sandals.
Riding Hats are provided free of charge
A 50% deposit is required at the time of booking
We recommend warm clothing and gloves
Please refer to our PDF for pricing information which can be found on our prices page.